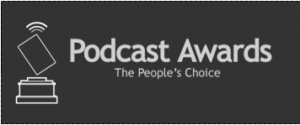 We have made it through the nomination stage of the Podcast Awards and are in the shortlist in the PodSafe Music category.
Thank you to everyone who nominated us in October. This means we're one of the top 10 podcasts in the PodSafe Music category in this years awards!!
The voting stage will be open from Friday 1st November thru Friday 15th November. You can vote for The Bugcast once a day, every day over at
podcastawards.com
Please be sure to read the rules for the voting stage!