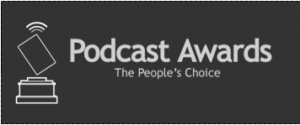 Thank you to everyone who supported us in the Podcast Awards and helped us make it as a finalist in the Podsafe Music category.
It's now in the hands of the reviewers to count and verify the votes. The winners will be announced at New Media Expo 2014 in Las Vegas on January 5th.
We won't be able to make the award ceremony ourselves, however I am going to be asking someone who is attending to accept the award on our behalf should we be fortunate enough to win.
Thanks once again to everyone who nominated and voted for us. Your continued support means a lot to us.