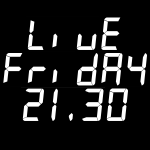 You know, we just can't sit still.
In March 2011, we changed the live show time of The Bugcast from 21:00 to 21:30, in order to accommodate a change in Caroline's busy social calendar.
In February 2014, we changed it back to 21:00, due to Caroline's Friday evenings reverting to how they were before March 2011.
It has become painfully obvious that, due to various reasons, we are utterly incapable of regularly achieving a 21:00 start. So, and hopefully for the last time, we're changing back to 21:30.
So, starting from next week – Friday 25 July 2014 – the live show is back at its previously regular slot of 21:30 UK time.
At the same time, we will endeavour to make sure that the show does start as close to 21:30 as possible… so in reality things probably won't change that much. :-\