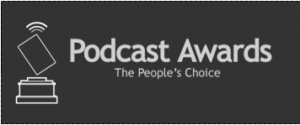 As we mentioned on episode 281, we're going for the 2013 Podcast Awards. This is not the same as the European Podcast Awards, which we are not eligible to enter in 2013.
The nomination stage is open now until 23:59 EST on Tuesday 15th October 2013 (that's 04:59 UTC/GMT on Wednesday 16th October 2013)
So, before that date, please head over to podcastawards.com and nominate us under the PodSafe Music category.
Important
According to the rules:
you can only enter nominations once – so if you wanted to nominate another podcast in another category you'd need to do that on the same form before you click [Submit]
you can only nominate for The Bugcast in one of the categories, plus one of either People's Choice or Best Produced. so if you wanted to nominate The Bugcast for one of those, please choose People's Choice
In order to ensure that votes are consistent, please use the following in your nomination:
Podcast Name: The Bugcast
Podcast URL: http://thebugcast.org/
If you do choose to nominate The Bugcast in the 2013 Podcast Awards, we thank you.