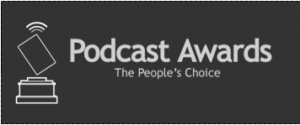 That's it… there's no more you can do!
Thank you so much for voting for The Bugcast each day in the Podcast Awards over the last few weeks. The Awards has entered the Voting Review stage now, so you have done all you can.
We would like to offer our sincere thanks to everyone who has supported us in this year's Awards.
As much as a win would be fantastically awesome, as we said on last week's show, we recognise that getting to the finalist stage makes us winners anyway. So at this stage it doesn't matter whether we win or not… we believe we're already winners. You told us that by getting us into the final in the first place.
What now?
The Voting Review will continue, well, until it's done! The winners will be announced at New Media Expo in Las Vegas on April 14th. The Awards ceremony will be streamed live from 01:30GMT/UTC on April 15th. Full details over at podcastawards.com nearer the time.
Once again, thank you!
Dave and Caroline