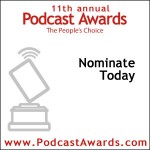 The People's Choice Podcast Awards are open once more for 2016, and we'd like your help!
Please nominate The Bugcast in the People's Choice Podcast Awards 2016.
It's really simple. Go over to:
… and fill in the following information under the People's Choice and Music categories.
Podcast Name: The Bugcast
Podcast URL: http://thebugcast.org/
so that it looks like this:

Then also fill in the details of any other podcast you want to nominate in another category – only one podcast per category though!
Finally, fill in your own details at the bottom of the page, like this (but with your own details, obviously!):

And then click [Submit] – possibly the most important step of all!
You can only submit this form once, so please make sure you've entered details for all the podcasts you want to nominate before you click [Submit]!
Thank you 🙂