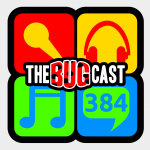 This week on The Bugcast: we talk about jobs, plus 8 great tracks of Creative Commons and independent music!
Songs played
Intro: Chris Juergensen – Bug Lips
Outro: Mark Marshall – Man Walking
Topics
Upcoming CCJam episodes for Boogie Belgique and ProleteR
Caroline's job update – starts on Monday
Dave's job update – starts in January!!
Announcements
Please leave us feedback on the music or any of the topics that we've discussed.
The next live show will be episode 385, broadcast live in the chatroom on Friday 27 November 2015 at 21:30 UK time (GMT/UTC).
Join us during the week on our Telegram group chat – click here to join (you'll need a Telegram account)
Podcasts mentioned
Association of Music Podcasting
Made In The UK Show
CCJam
Special thanks go to
The artists for allowing us to play their music.
Everyone who joined us in the chat room for the live broadcast of this show.
Internet Archive for hosting the media files
Ubuntu Podcast for the use of their Icecast server
Euterpia Radio for the use of their Shoutcast server
World Wide Indie Radio for relaying the live stream on their own service

Podcast: Play in new window | Download (Duration: 53:09 — 60.8MB)

Podcast (ogg): Play in new window | Download (Duration: 53:09 — 53.8MB)