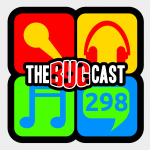 This week on The Bugcast: A new podcast from our Canadian contingent, a push for 300, and 8 great tracks of independent music!
Songs played
Intro: Chris Juergensen – Bug Lips
Outro: Mark Marshall – Man Walking
Topics
The Vast Expanse – ChrisFromCanada's new podcast!
Episode 300 is coming up really fast! Suggest your favourite track from the past 2 years!
Please leave us feedback on the music or any of the topics that we've discussed
Podcasts mentioned
Association of Music Podcasting
Next week
The next show will be episode 299, which will be broadcast live in the chatroom on Friday 31 January 2014 from 21:30 (ish) UK time (UTC).
Special thanks go to
The artists for allowing us to play their music.
Everyone who joined us in the chat room for the live broadcast of this show.
Internet Archive for hosting the podcast files
Ubuntu UK Podcast for the use of their Icecast server
Euterpia Radio for the use of their Shoutcast server
World Wide Indie Radio (formerly Butterflies Radio) for relaying the live stream on their own service
Love Leeds Radio for replaying the show on their station< br/>

Podcast: Play in new window | Download (Duration: 52:24 — 60.0MB)

Podcast (ogg): Play in new window | Download (Duration: 52:24 — 55.4MB)