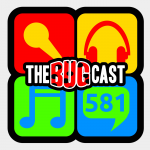 This week on The Bugcast: Even more art from Caroline and Cara, some geeky squee from Dave, and some amazing Creative Commons and independent music!
Songs played
Intro: Chris Juergensen – Bug Lips
Outro: Mark Marshall – Man Walking
Topics
Caroline's 3rd Art Night
Caroline's Frida Kahlo
Caroline amd Cara's Frida Kahlo
Dave's Arduino experiments
CCJam episode 61 – Vitne
Contribute: We need jingles and bumpers, here's how.
Let us know: How would people feel if we relaxed our posture on "clean" music only?
Upcoming events
OggCamp 2019
Saturday 19 and Sunday 20 October in Manchester
Announcements
Please leave us feedback on the music or any of the topics that we've discussed.
The next live show will be episode 582 which will be streamed live in the chatroom on Friday 20 September 2019 at 21:30-ish UK time (BST/GDT/UTC+1).
Join us during the week on our Telegram group chat – click here to join
(you'll need a Telegram account)
Podcasts mentioned
CCJam – a community music podcast from the Other Side Podcast Network
Special thanks go to
Our supporters!
The artists for allowing us to play their music.
Everyone who joined us in the chat room for the live broadcast of this show.
Internet Archive for hosting the media files
Euterpia Radio for the use of their Shoutcast server
The Bugcast is a proud founder member of the Otherside Podcast Network